October 23, 2017
How to Download GIF from Website to iPhone / iPad in iOS 11
---
GIF Image Source: www.giphy.com
As you know iOS 11 has many features added and performance improvement done. One of the features added is GIF support within iOS 11. Now you can easily download gif from any website and save to photo gallery. It will create animated album and save all gif within it. Gif support was not there in iOS 10, If you tried in the past to save gif, you noticed that it was converted to static image and saved as still image. Now with release of iOS 11 in built support given for Gif, no need to depend on any other application.
iOS 11 will create system level album within Photos Application names as Animated and put gif within it. User can easily manage all gif from Animated album. In this guide I have given a brief idea how to download gif image from website and save to iPhone Photo Gallery within iOS 11.
How to Save GIF from Website to iPhone/iPad – iOS 11
1) Open Safari app.
2) Open website that provide gif e.g. www.Giphy.com
3) Browse Gif you need.
4) Tap and Hold Gif suppose to download.
5) It shows Action Sheet, choose Save Image.
Where GiF stored in Photos Application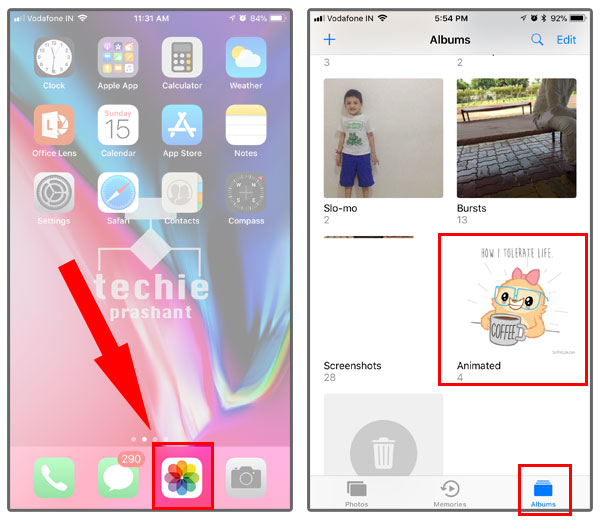 1) Open Photos app (album).
2) Tap Animated album
3) Tap Gif to view
Important: Do not send gif to iOS 10 based device via AirDrop etc. Within iOS 10 it will be converted to still image.
---