October 29, 2017
How to Share Live Location via WhatsApp on iPhone
---
If you have latest verison of WhatsApp on your iPhone or Android, you can share you live location via WhatsApp easily. Very useful features if you are out of way. You can also share location with someone visiting your place. Now it is possible to share realtime location that gives different dimension while you are travelling. You got it right, now you can share real time location, I mean live location. Actually just sharing the location was there for may days. But now you can share live location also. Here is brief guide how it works.
Important: Make sure you have latest version of WhatsApp on iPhone or Android. If not, please upgrade it before following this guide.
How to Share Live Location on iPhone:
#1) Open WhatsApp on your iPhone.
– Then open any conversation have to share live location with.

#2) Tap + plus icon located at bottom bar.
– If keyboard is open then bottom bar shows above keyboard.

#3) Choose "Location" from Action Sheet.
– It will open map interface, that shows your current location.

#4) Tap "Share Live Location"
– Note: If you have to send your location once then tap "Send Your Current Location", for live location sharing you must tap "Share Live Location"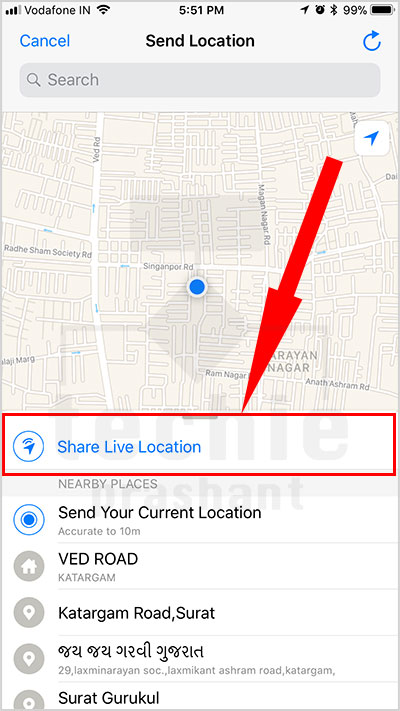 #5) It will ask permission if sharing location first time, choose "Always Allow"
– Important: For sharing live location you must choose permission "Always Allow",
If you have to share your current location once then you can choose "Only While Using the App"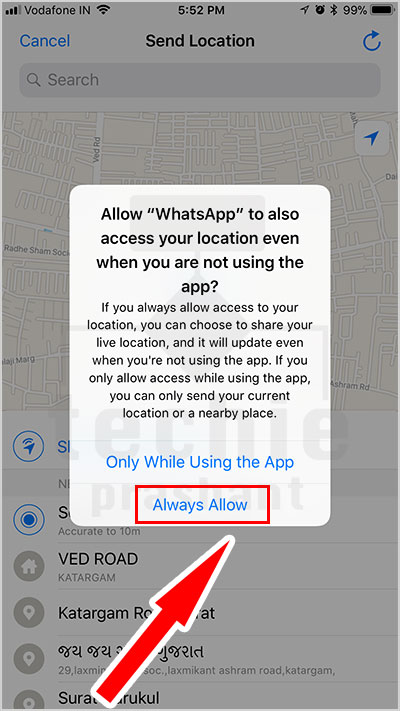 #6) Choose duration, write message and tap send button.
– It will send message to other person, he can see your location live from their device.

#7) Now you live location sharing will be on for the duration you choose.
– Note: It will automatically stop sharing live location after duration you set, you can stop sharing before time using the steps listed below.

Stop Live Location Sharing on iPhone:
– If you have to stop sharing live location sharing before it expired, follow below steps.
#1) Open convesation where live location shared, Tap "Stop Sharing"
#2) It shows action sheet, tap "Stop Sharing" again.
How to Share Live Location on Android:
– Follow above guide for android also, there are some change in android interface but overall steps and methods are same for android.
---